Derbent Mayor Resigns Ahead Of Jubilee Celebrations
17 08 2015, 11:28
Views: 533
Comments: 0
Category: Digest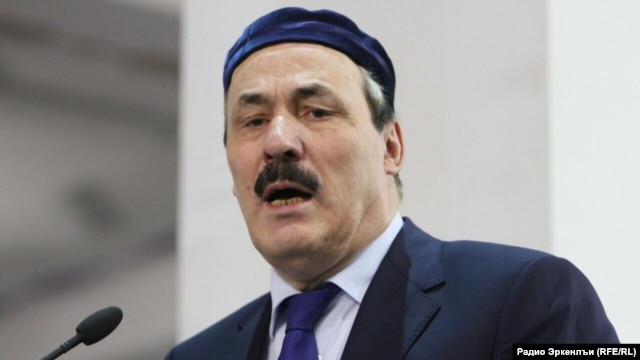 The protracted standoff in Daghestan between Republic head Ramazan Abdulatipov and Imam Yaraliyev, mayor of the southern town of Derbent, has ended with the latter's purportedly "voluntary" resignation. Russian State Duma deputy Gadjimet Safaraliyev has accepted Abdulatipov's invitation to take over as acting mayor of the town on the Caspian Sea coast. 


A Lezgin, Yaraliyev is a former Daghestani prosecutor-general who was first elected Derbent mayor in December 2010 with 98.6 percent of the vote. His political influence extends across southern Daghestan, particularly in districts with a majority Lezgin population. The Lezgins are the fourth largest of Daghestan's 14 titular nationalities. Lezgins and Azerbaijanis each account for 35-36 percent of Derbent's population of some 120,000.


Rumors of Yaraliyev's imminent dismissal had been circulating for months, since he adroitly engineered his reelection until 2018 in mid-January. The Daghestan subsidiary of the federal Investigative Committee retaliated by opening a criminal case against Yaraliyev that the Derbent municipal courtpronounced unfounded. The possibility that Safaraliyev would be named to a senior post in Derbent was likewise raised as long ago as February.


The consensus among local analysts and commentators quoted by the newssite Caucasus Knot is that Yaraliyev's resignation, whether indeed voluntary or under pressure, is part of Abdulatipov's ongoing campaign, with Moscow's backing, to squeeze out political figures whose influence enables them to act independently, and even in defiance, of the republic's leadership. Both former Makhachkala Mayor Said Amirov and former Derbent municipal district head Kurban Kurbanov were classic examples of such defiance.


Journalist Milrad Fatullayev points out that Yaraliyev is not currently suspected of any crime (unlike the Kizlyar, Kizilyurt, and Tarumov municipality heads who have likewise been removed from office in the past few weeks), and predicts that he will be offered a new job outside Daghestan, possibly on the staff of the federal Ministry for the North Caucasus.


Most analysts similarly discount any connection between Yaraliyev's resignation and the chaos surrounding the preparations for the launch in mid-September of celebrations of the 2000th anniversary of the founding of Derbent. With just one month to go, reconstruction and renovation work is still behind schedule, despite frequent tours of inspection and pep talks by senior officials. Daghestan Prime Minister Abdusamad Gamidov has travelled to Derbent three times in the past month to assess progress, on July 15, July 24, and August 8.


The reasons for the delay are difficult to pinpoint. Some commentators suspect construction work has been held up because the funds allocated by Moscow for that purpose have been used by the republican leadership for other purposes, while others suspect unnamed local officials of pocketing the money. Much of the work that has been done repaving streets and sidewalks was reportedly sub-standard.


Magomed Magomedov, a commentator for the independent weekly Chernovik, has suggested that having failed to dislodge Yaraliyev by other means, the republican leadership set out to sabotage preparations for the Derbent jubilee celebrations with the intention of making Yaraliyev the scapegoat, a fate he has avoided by stepping down at this juncture. Responsibility for the final preparations currently lies with former Justice Minister Azadi Ragimov, an Azerbaijani who was elected Derbent city administration head in late May by a margin of just one vote. One year ago, Ragimov had been Abdulatipov's preferred candidate to succeed Kurbanov as Derbent municipal district head.


Whether Safaraliyev is to be installed as Derbent mayor before or after the start of the jubilee celebrations is not clear. Fatullayev notes a major legal obstacle to doing so, insofar as following the abolition of direct mayoral elections, the mayor is elected by members of the municipal council from among their number -- and Safaraliyev is not a municipal council member.


In other respects, however, Safaraliyev, 65, conforms to Abdulatipov's imputed preference for a political figure who will implement orders unquestioningly rather than promote an agenda of his own. He is described as having demonstrated the utmost loyalty to successive Daghestani leaders; devoid of political ambitions; and not aligned with or beholden to any powerful "clan" or interest group.


On the minus side, Safaraliyev is described as an intellectual and political theorist, rather than an economist and hands-on manager. Moreover, he hasnever lived in Derbent and does not know the town. 


On the other hand, he can presumably call for advice on his co-ethnic and fellow State Duma deputy Murad Gadjiyev, a former chairman of the Derbent city administration, and on a third prominent Lezgin, Presidential Plenipotentiary for the North Caucasus Federal District Sergei Melikov.
Liz Fuller
Radio Free Europe/Radio Liberty
.
We advise you to
sign up
, to be full of users of our website.